If you record a lot of meetings and presentations, having some of the best webcam recorders on your PC is extremely useful. As a result, here is a list of the best free webcam software. You can also immediately check out our recorder.
Free webcam software for Windows 10
Movavi Screen Recorder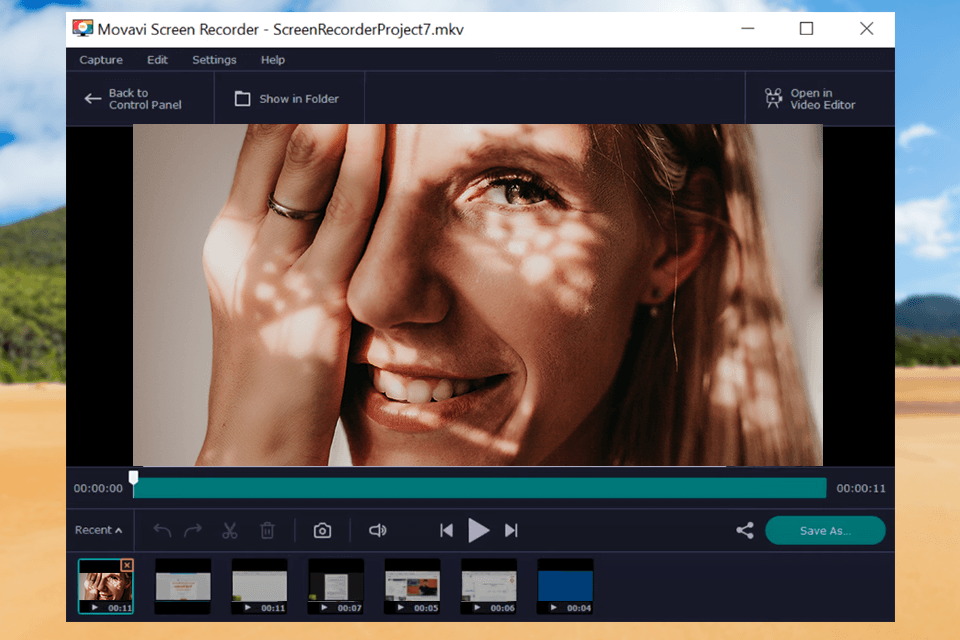 Movavi Screen Recorder's best feature isn't its versatility or extensive file format support. It's the fact that the learning curve is nearly flat: this is an app that you can install and use without having to figure out which buttons do what. It can record your webcam, your display, or both at the same time; you can schedule recordings in advance; you can annotate while recording; and there's also an audio-only recording option. The free version is fully functional, so you can test it without spending any money, and it can record both Full HD and 4K video.
Logitech Capture

Logitech Capture is available for both Windows and Mac, and it is specifically designed to work with Logitech's own webcams. There are a lot of useful features here, such as multi-source recording (not just desktop or window plus webcam, but two webcams if you have them) and vertical video capture for making movies for mobile phones. You can livestream and add live text overlays, and you can customize your settings and save up to six different camera profiles if you want a different look for different types of video.
CyberLink

Its Live Makeup feature can make subtle changes to your skin tone to ensure that every side is your best side. The app also has a lot of special effects and filters, making it a good option for playing around with the family, but it's also a serious tool that can be used for business. There's a dedicated presentation mode for making slideshows more visually appealing, as well as a good collection of video enhancement features to help you get the most out of your recordings. There's a 30-day free trial, so you can put the app through its paces without being bombarded with pop-up messages urging you to buy the whole thing.
Screencapture Webcam Recorder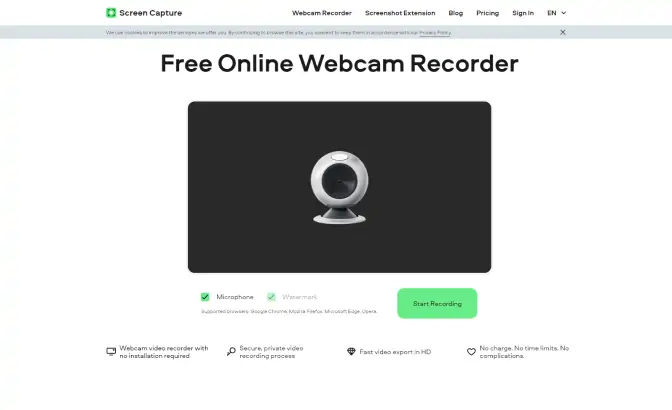 It doesn't get much easier than this when it comes to webcam recording. Simply navigate to Screencapture.com and use a single click to record your webcam (or three clicks if you include giving the browser permission to use your webcam and microphone). There are no editing features or on-screen controls other than a stop-recording button, which allows you to save your video as an MP4 file.
ManyCam
ManyCam is the type of webcam application we'd use in education or training because it includes a whiteboard for sketching, scribbling, and doodling. It can handle multiple video sources at the same time and stream live to Facebook and YouTube. You can use multiple layers and adjust their opacity, replace the background of your feed with a virtual location, and use chroma key for green or blue screen effects.
Bandicam
Bandicam is specifically designed for recording PC screens or webcams, as well as games that use DirectX/OpenGL/Vulkan graphics technologies. It can record 3D games at up to 4K Ultra HD resolution, shoot video at up to 480fps, and record externally connected devices like your game console or an IP camera. It has a very high compression ratio, so its video files are much smaller than those of many competitors, and it has a variety of advanced features, such as chroma key, scheduled recording, and narration recording.
Windows 10 Camera
This Windows camera app is Microsoft's own image and video app, and it works well with OneDrive cloud storage, allowing you to access your content from any device and from any location. The video recording feature includes an auto-stitch feature, which allows you to pause and resume your recording whenever you want, and the Camera app stitches the segments together into a seamless whole.
Microsoft's camera apps for PC are all very polished and work very well, but the Windows 10 Camera app is designed to be simple and lacks features. We've also heard users complain about the file sizes: because Windows 10 Camera is designed to work with any PC, it doesn't use some of the more efficient but CPU-intensive compression found in many paid-for Windows webcam apps.