If you've spent a lot of money on a good gaming PC, it only makes sense to spend a little more on a good mouse, which is essential for all types of games, whether it's aiming and shooting in first-person shooters or having all your spells and buffs "at hand" in an MMORPG. Any gamer will tell you that the computer is only half the equation and that gaming mouse pads, keyboards, and speakers are equally important.
Best Mice For Gaming Comfortable
So, without further ado, here is our list of the best gaming mice on the market in 2022.
Logitech G502 Lightspeed Wireless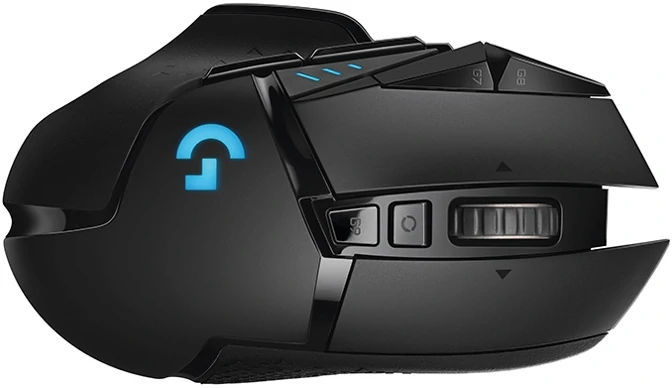 CPI: 16.000
Interface: USB / 2.4GHz Wireless
Buttons: 11
This model is an improvement on the extremely popular original G502 model, which has stood the test of time and is well-known for its accuracy and steady pointers. The Lightspeed goes wireless without hesitation. It improves on almost every aspect of its predecessor. It has an elegant design with 11 buttons, and a solid shell, and weighs 7 grams less than the original model. It comes with a dependable 16.000 HERO sensor and a flawless 2.4 GHz connection.
Corsair Ironclaw RGB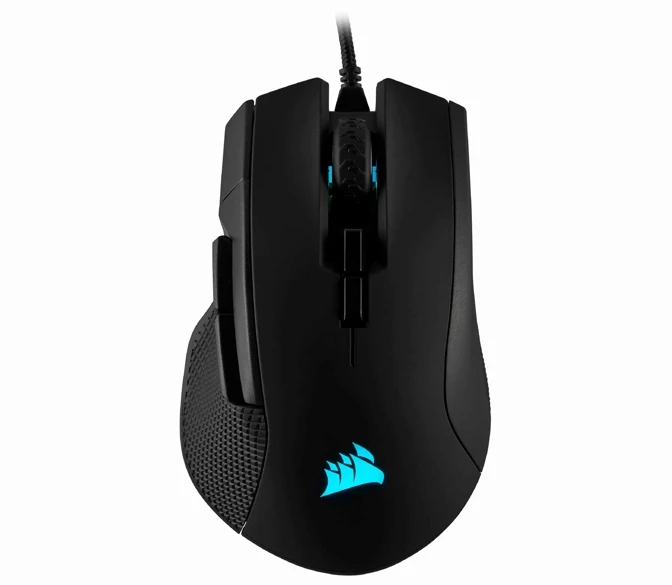 CPI: 18.000
Interface: USB
Buttons: 7
The most significant advantage of this model is the perfect balance of form and weight: it is neither too light nor too heavy, and it is one of the best choices for gamers with large hands. It also has a very sturdy construction that will not easily break. Aside from a middle mouse button that requires a bit of extra pressure to use, it's difficult to find serious flaws with this device, especially given its low price. The device is fully customizable via the iCue software, including the ability to tailor the mouse to the specific surface it is being used on.
SteelSeries Rival 710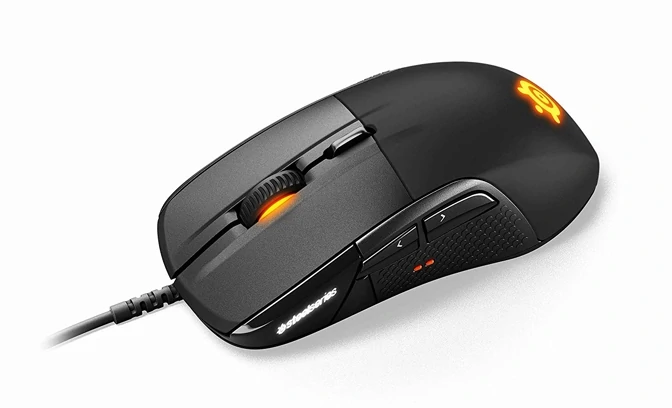 CPI: 12.000
Interface: USB
Buttons: 8
The SteelSeries Rival 710 provides such an incredible combination of unlimited customization and high-end performance that its high price is irrelevant. The device is large and well-balanced in the hand. The Rival 710 is almost entirely covered in soft-touch material rather than plastic. There are only eight buttons, three of which are programmable on the side and one behind the wheel. This is the mouse you'd rather lose than break. Almost every component of the mouse is replaceable, including the sensor, cable, and cover, and the reinforced split-trigger switches allow for 60 million clicks.
Razer Naga Trinity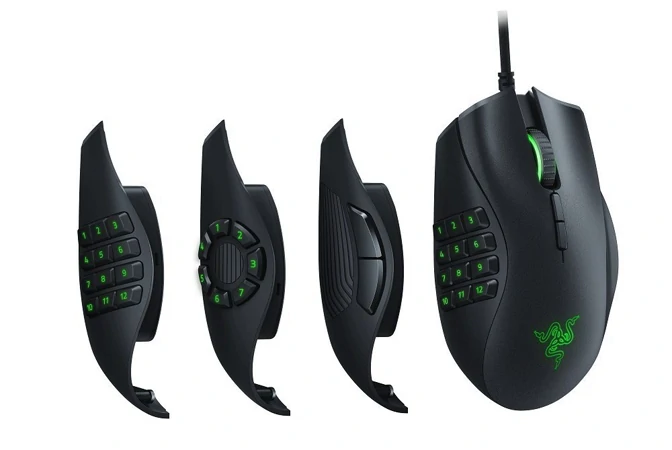 CPI: 16.000
Interface: USB
Buttons: 10, 14, or 9
This is the most recent upgrade to Razer's Naga, and it has already cemented itself as an excellent choice for MMO gamers. It's small and has three thumb grips with button arrays designed for MOBAs, MMOs, and general use. That's like getting three gaming mice for the price of one. Although the buttons are detachable, they remain firm and clicky. The panels are held together with magnets, so they don't jiggle back and forth when you're in the thick of things. The ergonomic design includes a pinky rest, but it may be uncomfortable if you have large hands. The mouse is highly customizable, has RGB lighting, and has an incredible 16.000 DPI sensor.
Corsair Harpoon RGB Wireless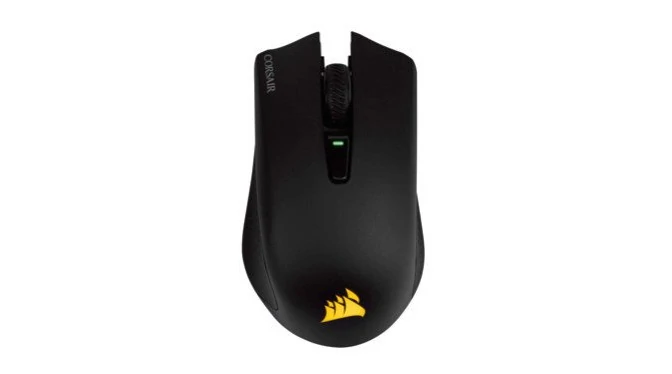 DPI: 10.000
Interface: Wireless
Buttons: 6
This Corsair model provides a wireless mouse with solid performance for as little as $50, which is less than the price of many wired models. And, although the device only has two extra buttons and a fairly traditional shape, its great performance, intuitive software, and flawless wireless connection make it one of the best values available. To top it all off, it has nice RGB lighting.
Logitech G900 Chaos Spectrum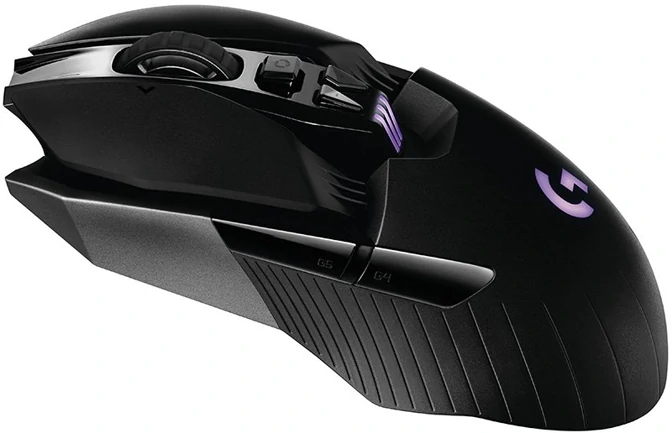 DPI: 12.000
Interface: Wireless
Buttons: 5–9
The mouse is balanced and ambidextrous, allowing you to customize it for your right or left hand by moving and adjusting the thumb buttons so that the final count is between 5 and 9; you can have them on both sides of the mouse or remove them entirely. The scroll wheel clicks three times, and there are two DPI sensitivity buttons in the center, a button to change the resistance of the scroll wheel, and a button on the bottom to switch between profiles. Because all of the buttons are programmable, you can easily select only the functions you require.
HyperX Pulsefire FPS Pro
DPI: 16.000
Interface: USB
Buttons: 6
The mouse can be programmed using the HyperX Ngenuity software, which allows you to change the lighting, adjust the DPI levels and program buttons, and save different profiles for different games. Although the program interface is not particularly user-friendly, it includes all of the customization options found in modern gaming mice. While this mouse is labeled as "FPS," it appears to be a multi-purpose model that will work equally well in MMO or strategies. So, if you're not ready to invest in a more advanced mouse but still require a reliable gaming device, here's our top pick.
Razer Viper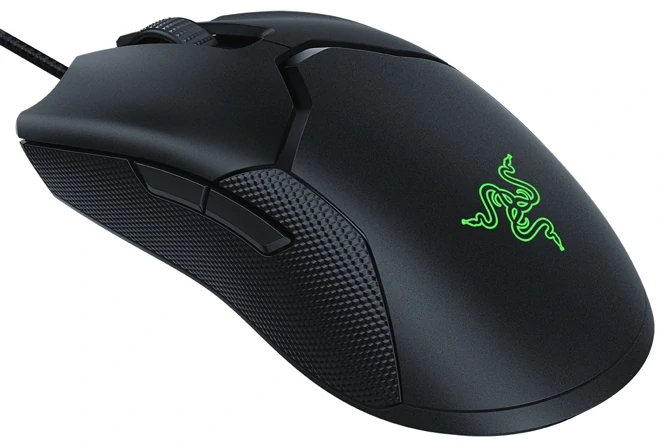 CPI: 16.000
Interface: USB
Buttons: 8
This mouse is widely regarded as the lightest e-sports mouse on the market, as well as one of the best in terms of pure performance. It is extremely popular among gamers who play shooters like CS: GO or Overwatch, which requires a high level of speed and accuracy. The Razer Viper weighs only 69g and employs upgraded mechanical switches that register button presses at an incredible rate. Another similar feature is Viper's Drag-Free Cord, which creates a wireless-like effect that is critical in the case of a mouse that is almost as light as the cable itself. This mouse has ambidextrous movement.
Roccat Kain 120 AIMO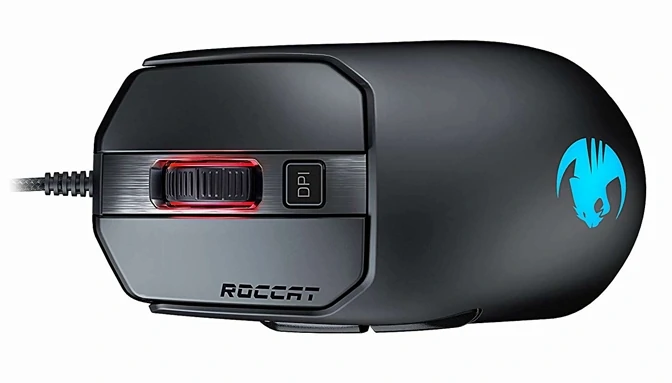 DPI: 16.000
Interface: USB
Buttons: 6
The Roccat Kain 120 AIMO gaming mouse is ideal for anyone looking for a good mid-range gaming mouse. In comparison to other models such as the Roccat Kova Aimo and Roccan Kone Aimo, Roccat has significantly simplified the design with this model. The new design is more subtle, has a more comfortable feel in the hand, and is ideal for people with small hands. While the mouse is fairly symmetrical, it is not ambidextrous due to the placement of the two thumb buttons on the left side of the body.
Logitech MX518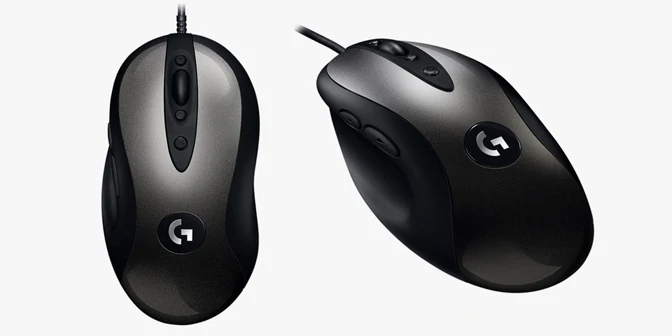 CPI: 16.000
Interface: USB
Buttons: 8
The ads refer to it as a "legend reborn" because the original MX518 model is one of the most well-known gaming mice. However, since its initial release in 2005, mouse technology has advanced significantly, and the most recent MX518 update incorporates some of the most significant advancements.
With the new model, Logitech stays true to its image of a gaming device that doesn't care about the gimmicks of its competitors and knows what matters in gaming. It comes highly recommended by us.