A good headset can enhance your gaming experience in a variety of ways and is an essential addition to your PC, monitor, and other gaming accessories. If you're a fan of first-person shooters, you already know that headphones are the most important tool for intelligent shooting – they allow you to locate your enemies by hearing their footsteps and bullets, which is impossible if you don't have a good headset. If you enjoy MMORPGs, for example, headphones can enhance the immersive experience offered by your powerful, lag-free computer and high-resolution screen. In general, all of the most recent games include a wide range of environmental noises – all of the rustles, shuffles, cracks, and bumps that make a game not only look real but also sound real.
Our Top 5 Selections
HyperX Cloud Stinger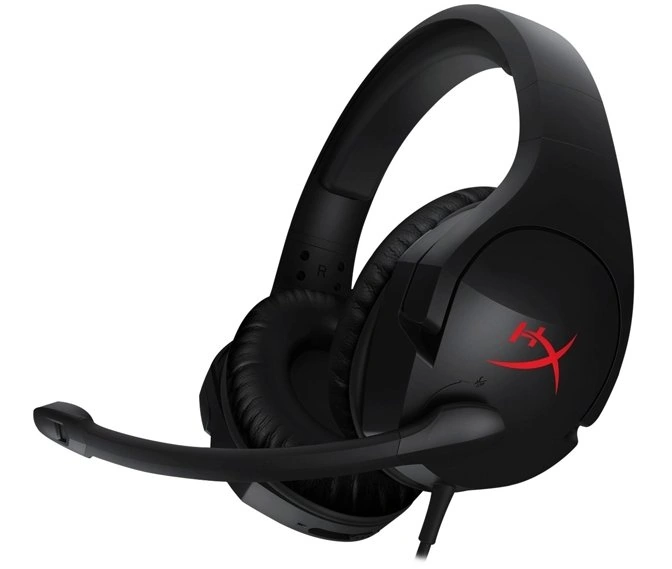 Wireless: No | Drivers: 50mm | Frequency response: 18Hz–23,000Hz | Connectivity: 3.5mm plug | Features: Rotating ear cups, noise-cancellation mic
This is the most affordable of HyperX's gaming headsets and one of our top picks due to the value it provides for the price. While the Cloud Stinger's case is entirely made of plastic, it does not feel cheap, thanks in part to its stylish matte black surfaces. The earcups rotate, which is an uncommon but useful feature for a low-cost headset. A flexible microphone and a 3.5mm jack are included, and the volume slider is located at the bottom of the right earcup. It has 50mm drivers, which is impressive considering that almost all headsets in this price range stop at 40mm. Because it is still a low-cost stereo headset, you will not experience the immersion that more expensive models provide.
SteelSeries Arctis 7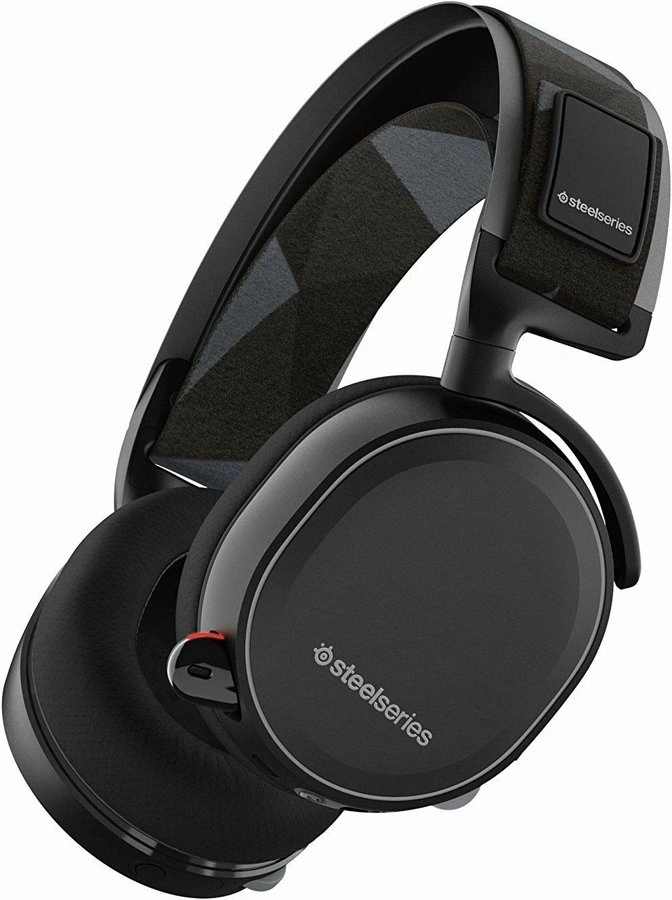 Wireless: Yes | Drivers: 40mm | Frequency response: 20Hz–20,000Hz | Connectivity: 2.4GHz wireless + 3.5mm plug | Features: Virtual 7.1 surround sound, AirWeave earcups, great battery life, ClearCast mic with noise cancellation
Arctis 7, one of the top Arctis headsets, has an austere design that avoids all colorful attractions aimed at younger gamers. Two volume controls on each earcup allow you to balance the volume of team chat and game sounds while playing. When not in use, a flexible microphone emerges from the left earcup and can be rolled back into it. Even though the Arctis 7 is a wireless headset with a 2.4GHz connection, it also has a 3.5mm jack and a cable for connecting to consoles or mobile devices. The SteelSeries Engine 3 allows you to configure the 7.1 surround sound by selecting from presets or creating your profiles. Also, a 40mm driver provides lag-free and clear surround sound with excellent dynamics from all sides and angles.
Razer Nari Ultimate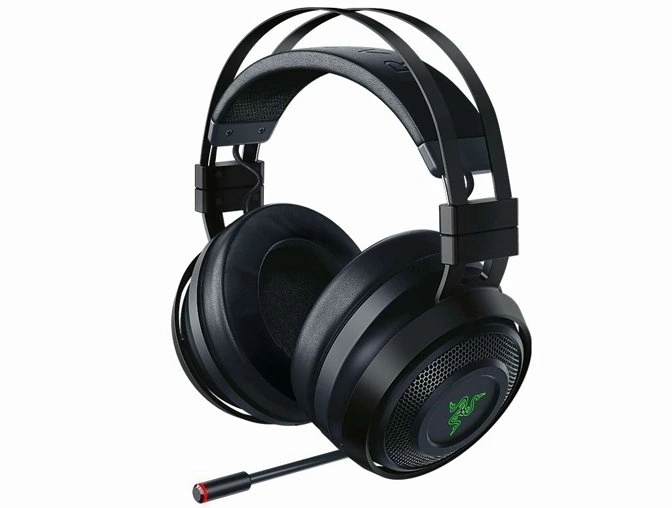 Wireless: Yes | Drivers: 50mm | Frequency response: 20Hz–20,000Hz | Connectivity: 2.4GHz wireless, 3.5mm plug | Features: THZ Spatial Audio, cooling gel-infused cushions, lightweight aluminum body
Razer is a well-known gaming brand that is well-known for its accessories such as mice and keyboards. We have to admit that their headsets are on par with the rest of the gear. The flagship model of the new Nari line is the Razer Nari Ultimate. It appears impressive at first glance, with its large earcups, elegant retractable boom mic, and aluminum frame. Inch-thick memory foam with cooling gel in the earcups keeps you comfortable – and they even thought of those who wear glasses by including hidden eyewear channels.
Aside from two Razer logos that light up green when the headphones are turned on, the design is clean and monochrome. Nari Ultimate employs the classic Razer Synapse 3.0 software, which looks and functions similarly to that used for Razer mice and keyboards. The Haptic intensity slider controls the HyperSense haptics technology, which mimics the operation of a massive subwoofer's driver by moving motors at the frequencies that a subwoofer pushes air around, thus simulating a subwoofer on your head.
SteelSeries Arctis Pro + GameDAC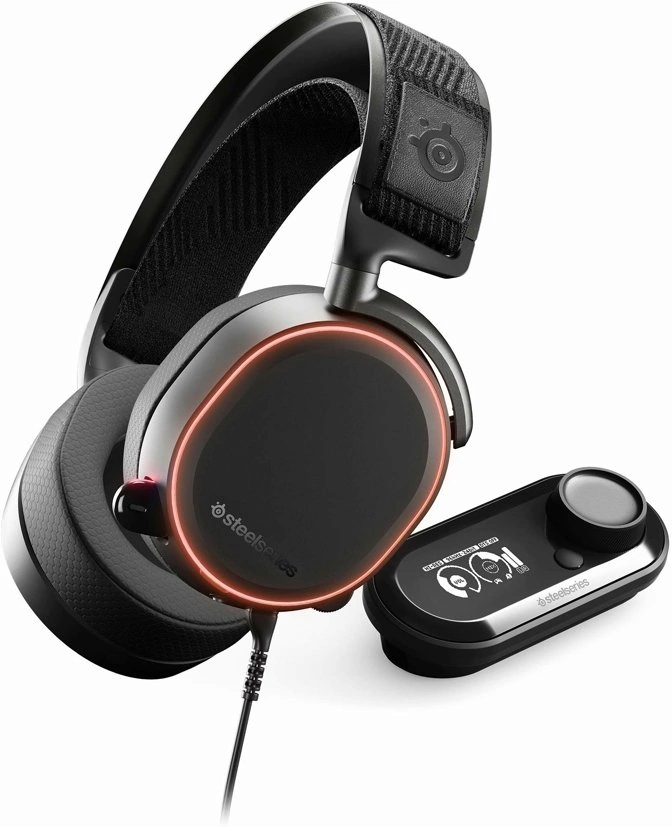 Wireless: No | Drivers: 40mm | Frequency response: 10Hz–40,000Hz | Connectivity: USB, optical, 3.5mm plug | Features: RGB, 40,000Hz output, DTS Headphone:X v.2.0 surround sound, ClearCast mic with noise cancellation, easy customization with GameDAC
This Arctis Pro model includes an external GameDAC module, which provides high-fidelity sound by offloading audio from the DAC on the hardware you're using. It also allows you to easily customize all of the sound settings and controls, including the RGB lighting, via its OLED screen. The design is very similar to that of the Arctis 7, with the only significant difference being the customizable LEDs forming two rings around the earcups. Arctis Pro is compatible with the PlayStation 4, PC, and Mac. It will also work with the Xbox via optical connection, but it will not support Xbox Chat due to a Microsoft policy that requires manufacturers to pay to use its chipset for chat functionality.
Logitech G935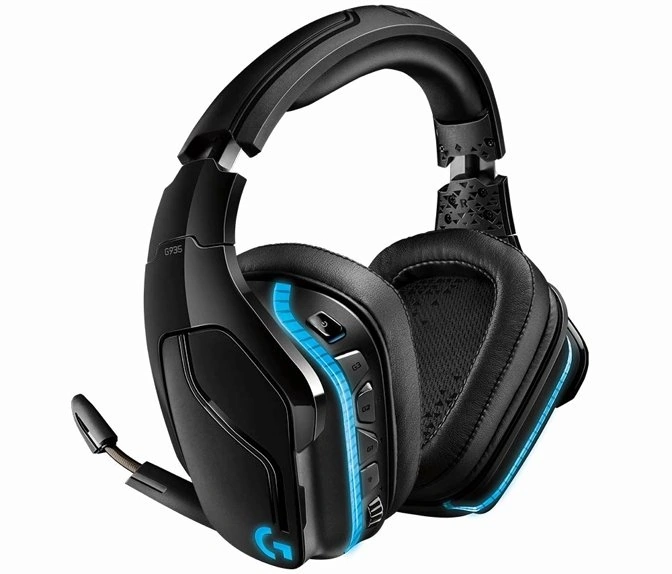 Wireless: Yes | Drivers: 50mm | Frequency response: 20Hz–20,000Hz | Connectivity: 2.4GHz wireless | Features: customizable RGB lighting, DTS Headphone: X 2.0 surround sound, Pro-G 50mm drivers
In terms of general functionality and audio specs, the G935 is nearly identical to the Corsaire HS70, but some of its special features appear to be worth the extra $69 it adds to the HS70's price. But first, let's go back to the beginning – the design. Logitech frequently puts a lot of effort into the shape and overall appearance of its high-end accessories, which does not always make sense. You might be wondering who the RGB lighting bands on the back of the earcups are for. You can't see them, and if you stream, your viewers won't either, so the only person who will truly appreciate the light show you put on around your house is you.