If you want to optimize your gaming experience today, a powerful PC is no longer sufficient. Skill requires the right tools, and the first thing you should consider after selecting a good gaming computer is a keyboard and mouse combo.
If you want a simple app to record your gameplay, try Gecata by Movavi.
Best 

Gaming 

Keyboards: 

Top 

10 

Selections
Ruccat Vulcan 121 AIMO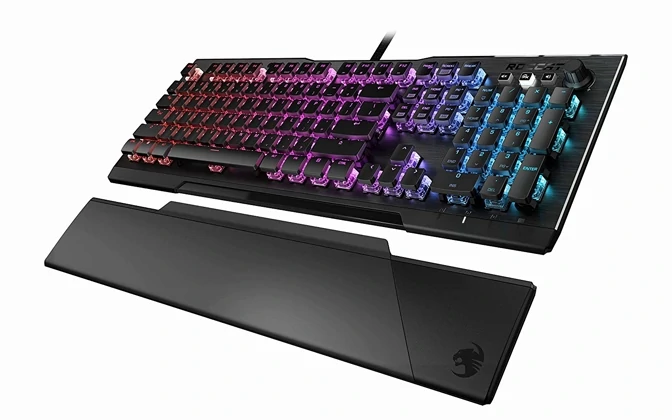 This is amongst the most futuristic-looking gaming keyboards available, and it is a consistent leader in keyboard design charts. It looks cool and unique because the switches are on the desk rather than under it, but at $160, Roccat has to offer a lot more than spaceship-like shapes and pretty lighting to compete with Logitech, Razer, and Corsair.
The oddest thing about the Vulcan is that it lacks a USB passthrough, and the wrist rest, while slim and easily attached with magnets, is made of hard plastic and not very comfortable for long-term use.
SteelSeries Apex Pro
SteelSeries Apex Pro is well-known for its keyboard actuation heights, which have in many ways revolutionized the industry. The Apex Pro includes OmniPoint Adjustable Switches, which allow you to change the actuation distance from 0.4mm to 3.5mm on the fly. This concept takes the mechanical keyboard's main advantage – per-key switches – and pushes it to its limits. As a result, you have a versatile keyboard that adapts to your gaming, typing, and personal preferences.
Logitech G513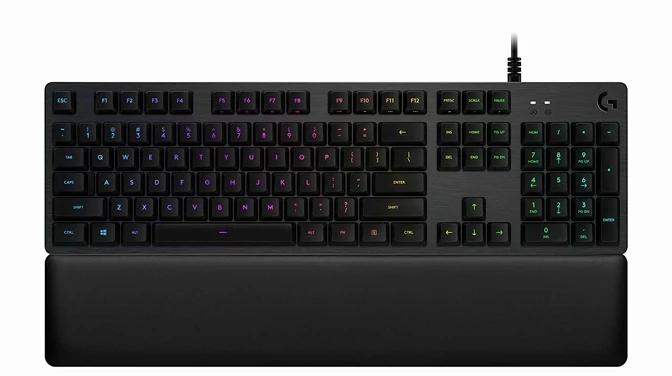 The keyboard has a plastic frame and a top plate made of aircraft-grade 5052 aluminum. The large memory foam-padded wrist rest is a welcome addition. Floating keycaps make it much easier to clean the keyboard with compressed air. The lighting is vibrant and customizable on a per-key basis, and the LightSync app will help you synchronize the lighting setup with all of your Logitech devices.
Razer Huntsmen Elite
The Huntsman Elite is the first model to use the new "optomechanical" switches. This essentially means that instead of using metal parts to detect keypresses, these switches use laser beams. In theory, this should improve switch response time and durability. They have clicky feedback and require less actuation force. The interesting thing about these switches is that you don't have to wait for mechanical components to return to their default position before you can press the next key. The click is laser-triggered, reducing key reset distance and allowing for super-fast presses.
Corsair K95 RGB Platinum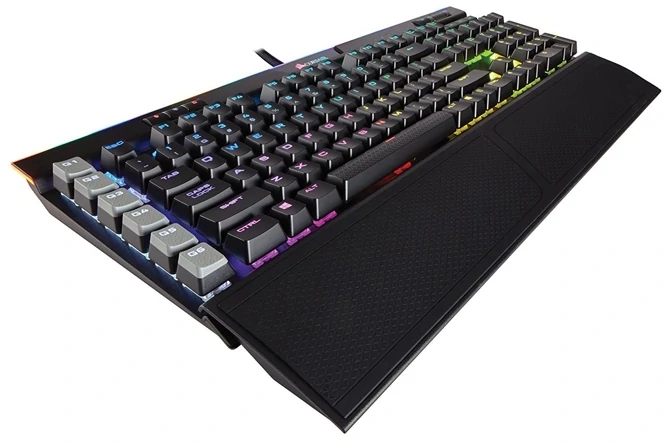 This time it's a monster among gaming keyboards from Corsair. On the internet, it's been referred to as the Ferrari or even the Rolls Royce of keyboards. Let's see if this opulent model isn't just a marketing ploy.
The Corsair Utility Engine (CUE) software is among the most user-friendly available. It's also stylish and simple – everything is where you'd expect it to be, and even the most complex lighting customization feels like a game. It's also simple to record long-string macros and even add custom sounds to them.
Razer Cynosa Chroma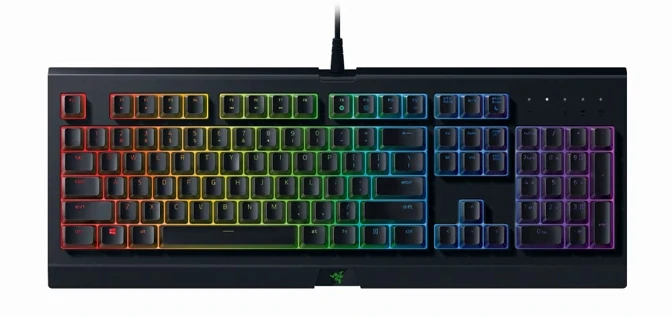 Cynosa Chroma packs a powerful punch in its price range. The keycaps have a pleasant concave shape, are soft to the touch, and do not have a cheap feel to them. According to Razer, the deck is "splash-resistant," but this is a common feature for non-mechanical keyboards.
Finally, Cynosa includes a Hypershift feature that allows you to effectively double the number of customizable keys by switching between two sets of macros with a single key press.
HyperX Alloy Elite RGB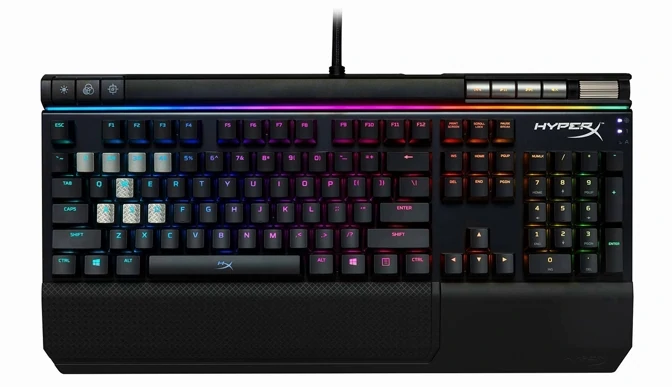 The Alloy Elite RGB is substantial in weight, but not overly so. Furthermore, the wrist rest is detachable, allowing you to free up even more space if needed. The keys have a soft finish and are slightly concave, and there's also a set of textured silver replacement caps for the WASD keys, as well as silver caps for the 1, 2, 3, 4, and 5 keys. There are dedicated media buttons and a volume scroll bar at the top. There are also dedicated buttons for adjusting brightness, activating "game mode," and changing lighting profiles.
IOGear HVER RGB Pro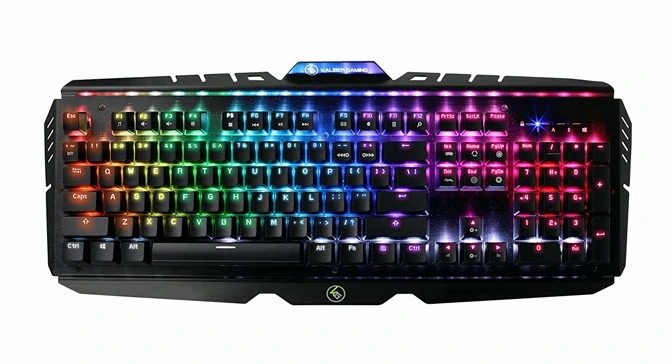 This is our second contender for the best budget gaming keyboard, following the Razer Cynosa Chroma. Most models in this price range are slightly more expensive or lack features such as mechanical switches or RGB lighting, which is why the HVER Pro RGB has piqued our interest.
In terms of gaming performance, this keyboard has passed the most stringent tests. The clicks are responsive, and the increased resistance past the actuation point prevents unnecessary movements and fatigue in your hands. This is a very responsive keyboard that registers keypresses almost instantly, and the device effectively prevents false or missed inputs.
Cooler Master MK850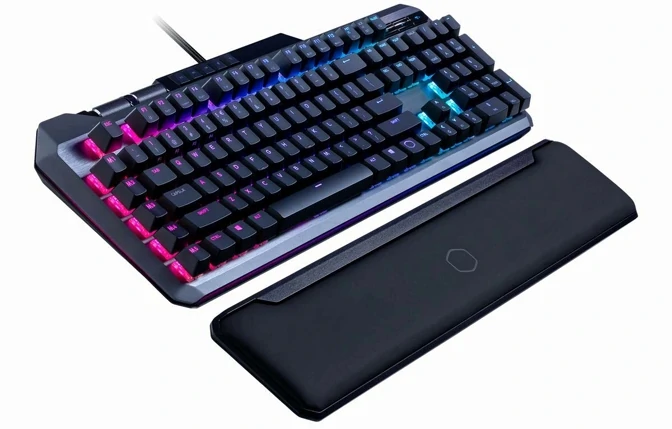 With its dark chassis made of anodized brushed aluminum and black keys bathed in the underlying light, Cooler Master's flagship gaming model MK850 looks impressive. The keyboard employs "floating" keys, which expose the switches. There are also light bars on the deck's sides that emphasize the device's angular shape. There are two USB 3.0 ports on the back of the board. The magnetic faux-leather wrist rest is extremely comfortable.
Logitech G915 Wireless

The keyboard is stunning: it exudes the understated elegance of a genuine treasure hidden among heaps of glittering trash. The matte gunmetal top-deck, black keys with subtly illuminated lettering and almost no light "overspilling" from under the keycaps, a stylish volume roller that breaks up the straight rectangular form… The keyboard is extremely thin, but it is not light. The low-profile keycaps give it an unusual appearance for a gaming keyboard while also saving the G915 from bulky extra plastic.
The wireless connection is flawless, and the G915 can also be connected via Bluetooth. If the RGB lighting is turned off, Logitech promises 135 days of use between charges.
The conclusion is that the Logitech G915 is the best wireless keyboard we've tested. Perhaps you'd prefer more programmable buttons and a wrist rest for your $250, but we think the keyboard is still worth it.